I am just back from eating my way around Vietnam, yet am about to delve into an earlier Morocco sojourn. Luckily newly launched Dubai-based travel blog, Travel Junkie Diary [2] prompted me to dig out my photos, reminisce fondly and write this guide up. So here's FooDiva's culinary travel tips on Morocco, plus a pictorial tour thanks to my lifesaver Instagram. [3]
1. What is the traditional dish of Morocco?
Tagines are the most traditional and most famous – a stew slow-cooked in earthenware pots with conical lids. There are many variations, but my three favourites are kofta and egg, chicken with preserved lemons, and lamb with artichokes and potatoes – signature dishes chez FooDiva ;). If you fancy making it yourself, I follow Anissa Helou [4] and Claudia Roden's [5] tagine recipes.
Pigeon pastilla is another popular dish – a sweet-savoury crisp and tissue-thin pie from the city of Fez. Shredded pigeon and almonds sprinkled with icing sugar and cinnamon. Pretty to look at too!
2. What spices are used in Moroccan cuisine?
Ras El Hanout is the signature Morroccan rub – a blend of many spices and no one knows exactly what, but expect to find cardamom, clove, cinnamon, chilli, coriander, cumin, ginger, lavender, nutmeg, peppercorn, paprika, fenugreek, rose petals and turmeric. You can buy it already blended.
It's also worth mentioning harissa – more of a hot chilli pepper paste whose main ingredients are chilli pepper, garlic, coriander, caraway, salt and olive oil.

Chermoula is a moreishly good marinade with coriander, parsley, garlic, cumin, paprika and cayenne peppers, plus lemon and olive oil – works wonders on fish.
Hover over each photo with your mouse to read the captions :).
[6]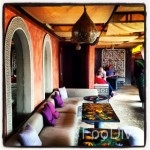 [7]
[8]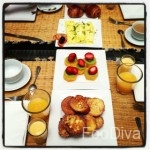 [9]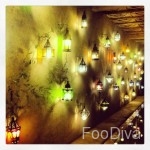 [10]
[11]
[12]
[13]
[14]
[15]
[16]
[17]
[18]
[19]
3. Any particular dish you fancied?
Aside from what I've already mentioned, the rghayef – a fried, square-shaped pancake served at breakfast in our guest house in Ouarzazate is absolutely sublime. Traditionally drizzled with honey but as I don't have much of a sweet tooth, I slather on cream cheese.
I was seriously impressed by the Moroccan wine, red grapes in particular – the Medaillon Cabernet 2010, Terres Rouges – La Ferme Rouge 2011 and Volubilla 2009. So much so, I brought a few bottles back.
Not really Moroccan, but our stunning riad in Marrakech served us a different home-made breakfast every morning. My favourite…the baguette pain perdu…crisp and gooey all in one.
4. What are the best restaurants in your opinion in Morocco?
Here are my top picks for the destinations I visited. Bar one restaurant, all specialise in Moroccan dishes. When I travel I tend to embrace local culture and wrap my taste buds around that country's cuisine.
Ouarzazate
Marrakech
[26]
[27]
[28]
[29]
[30]
[31]
[32]
[33]
[34]
[35]
[36]
[37]
5. Which hotels would you recommend?
Casablanca

– the Sofitel Tour Blanche [38] with a bird's eye view of the mosque, the second largest in the world after Makkah. Beautiful boutique feel with scatterings of unusual art and sculpture. Its Moroccan restaurant is also a goodie.

Ouarzazate – a riad, Le Temple des Arts. [39] Base yourself here for day trips into the Atlas mountains.

Marrakech

– split your stay between Palmeraie (named after the never-ending boulevards of palm trees) for some relaxing pool time and the Medinah for the hustle and bustle of a souk.

Palmeraie

– Mosaic Palais Aziza. [40] An intimate resort with a pretty Palm tree-lined swimming pool – pic above. Recommended by Marina O'Loughlin [41] in a Marrakech travel feature for Olive magazine. The in-house restaurant Maroliano is worth mentioning for its rather unusual marriage of Moroccan and Italian cuisine. I am not normally a fan of mixed-concept restaurants but this one has pulled it off. If you have a never-ending budget, then Ksar Char Bagh [42] offers privacy and exclusivity – where the celebs stay apparently.


Medinah

– Riad Adore [43] part of the British-owned Pure Riads group – the highlight of my stay! Hidden away in the alleys of the Medinah, this teeny five-room riad is a haven of understated luxury and a heavenly escape. Each room is individually designed and overlooks a beautiful courtyard where home-made brekkie is served. There's a library with an honesty bar and a rooftop terrace for dinner.

[44]
[45]
[46]
[47]
[48]
[49]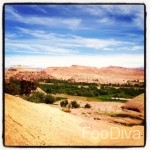 [50]
[51]
[52]
[53]
[54]
[55]
6. Any tips on what to avoid?
In one restaurant, we spotted horse fillet which my brother-in-law ordered and loved! I would have eaten it had the sauce appealed – just depends on how adventurous a palate you have.
La Mamounia, [56] the grand dame of hotels in Marrakech, nearly a century old, but beware it's like Fort Knox getting in. We made a restaurant reservation and wangled our way through – so dark and eerily quiet, almost museum-like. Very disappointing so don't bother. The exterior façade is beautiful enough for photos.
FLIGHTS: I flew to Casablanca direct with my favourite airline, Emirates [57] (and no they didn't sponsor my flights). Morocco may be North Africa or Middle East but the twice daily flights are an eight to nine hour journey, winds dependent. Thanks to an excellent code share agreement, internal flights on Royal Air Maroc are bookable on the Emirates website for cheap as chips (in my case Marrakech – Casablanca), so take advantage of this facility rather than booking separately.
DRIVING: Like here, it's on the right side and pretty easy with a Tomtom – no need to hire a driver ;). The usual car hire suspects are all present in Morocco. Make sure to take out insurance – we had a mini car accident, thankfully nothing too serious but with the correct forms, the police process wasn't too painful.
WEATHER: We visited late March/ early April but the last few days were marred by unusually chilly weather given it's meant to be Spring and an advisable time to hit Morocco before the Saharan summer heat kicks in. My recommendation is to plan a holiday around May/ June or September/ October.
[58]Next time Fez is high up on my itinerary. We purposely avoided Essaouira on the coast which apparently doesn't compare to the likes of Santorini, a Greek Cyclades island we know very well – anyone visited both to compare? Or anywhere else in Morocco? Would love your feedback.
Incase you're wondering, credit for this holiday research is pretty much down to my lovely sis @mrsbubbly [59] who is even more anally retentive than moi and plans trips with Excel sheets. She really should set up a travel website.
If you fancy a taste of Morocco right here in Dubai, the only restaurant FooDiva can truly recommend is Almaz by Momo [60] hidden away on the top floor of Harvey Nic's in Mall of the Emirates. The Beirut outpost [61] is also a gem. Or else opt for Frying Pan Adventure's North African [62] street food tour…when the weather cools down.
Provided Dubai's restaurant openings slow down, I promise to write up Vietnam sooner rather than later. In the meantime, I'll love you and leave you with this funny postcard – and dare I say couscous didn't grace FooDiva's lips once ;).
A bientôt.
FooDiva. x
P.S – fellow food blogger Sips and Spoonfuls travelled to Morocco just after moi…and had much better weather – do check out her snaps [63] of another stunning Marrakech riad.
P.P.S – if you're not fasting, here's an updated round-up [64] of independent eateries open in Dubai for daytime dining over Ramadan.