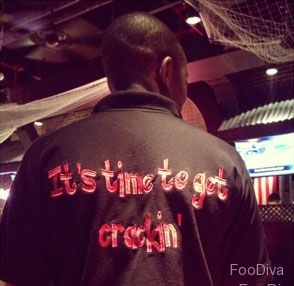 It's time to get crackin' – screams our waiter's polo shirt. Neon signs plaster the walls. A sea of red chequered paper tablecloths blankets this casual restaurant. Diners sport plastic bibs, whilst gripping wooden mallets crushing a shellfish feast of lobster, crabs, shrimp and mussels. They sip Bloody Mary's out of moonshine jars (that's FooDiva) and share giant cocktail glasses of frozen margaritas. The only thing missing is the rodeo mechanical bull, but it's lurking in the back ready to rock after Ramadan. We're in Claw BBQ, a new crabshack and grill at Souk Al Bahar in Downtown Dubai, brought to us by the same guys behind Okku, Riva and Sophie's. [1]
Crab and BBQ grilled meats are the speciality here, but the Southern American menu also shouts out clam chowders, freshly shucked oysters (naked, grilled or fried) and buffalo wings to start with, right through to sizzling fajitas, burgers and baby-back ribs (beef – no pork here sadly) for mains.
Whilst perusing this extensive menu we dig our tortilla chips into a generous serving of decadently rich guacamole with huge chunks of avocado and a good kick of lime. I do love my Bloody Mary's, but I can't be drinking water (by the way no local water on offer) from these glorified jam jars. The frozen margaritas – original and raspberry flavour are a killer. We settle on sharing fajitas as a starter, followed by a crab bucket for main.
Our chilli lime chicken fajitas rock up chargrilled and sizzling on a bed of sautéed sweet onions and bell peppers – the chunks of thickly carved chicken breast are tender and succulent. Mini bowls of shredded lettuce, grated cheddar cheese, a pico de gallo salsa mix of chopped tomato, white onions and chilli, plus guacamole and sour cream are all super-fresh, whilst sadly the warm flour tortillas have to sit on a chair as the very narrow tables à deux are already crammed. Our waiter agrees with us – really doesn't make sense given the ample space between tables. As we struggle to get through our tortilla wraps, we've clearly over-ordered. Our waiter quite rightly asks if we'd like to wait a wee while for our main.
A couple of margaritas later, our crab 'bucket' that goes by the fun name of crabapalooza arrives as a platter perched on a metal tower with mounds and mounds of three species, all steamed – Atlantic blue crab, snow crab cluster and king crab legs sourced from the US. Our waiter shows us how to crush, crack and draw out the more-than-you-would think crab meat with three utensils. The blue crab meat is juicy, rich and full of flavour, the snow crab with its spidery long legs and claws is too salty for our liking, whilst the king crab trumps them all with its sweet, delicate white meat. Served with grilled corn on the cob (we could have done with two pieces here given it's a sharing platter), steamed potatoes and a sublime calorific clarified butter for dunking. All these crab species, plus a mud crab can be ordered separately so next time it's king all the way for moi.
I was worried the service may be a tad over-enthusiastic à la TGI Friday's but far from it, our South African waiter is a delight – fun and funny without being cheesy. Someone you can have a frank conversation with, and who knows the menu inside out. It's a Friday night over Ramadan and the crabshack is rocking – they're turning over tables two to three times. At AED 160 each without booze (and AED 327 each with five cocktails and a beer) that's a reasonably well priced menu.
An outdoor terrace beckons when the weather cools down, sadly not facing the magical fountains, but the striking Address Downtown Dubai. Mind you the buzz is inside, with the bar also on top form, and once that bucking bronco gets going and a jukebox too, who knows how raucous the evening will get? One thing's for sure I'll be back to find out. And so should you. It's been a helluva long time since a restaurant review has pretty much ticked all the boxes – food (from presentation to taste), service, location, interior, atmosphere and value for money. So bar those teeny tables and the odd food preference, Claw BBQ, you've hit the nail on the head, albeit with a mallet ;). Here's to a four out of five FooDiva knife rating.
Claw BBQ Crabshack & Grill [8] is located at Souk Al Bahar, Level 3 (next to Karma Kafe). T; +971 4 4538200. E; info@clawbbq.com [9] Open daily 11am to 2am. Licensed. Price per head without booze AED 160.
I am so glad my crab experience here far outweighs Aprons & Hammers. [10] Mind you the latter is set to open at the footsteps of Address Downtown later this year. Have you been to either? How do you rate them?
A bientôt.
FooDiva. x
P.S – with only a few days until Eid, if you're looking for independent restaurants to lunch in over Ramadan this week, click here. [11]